Public Online Auction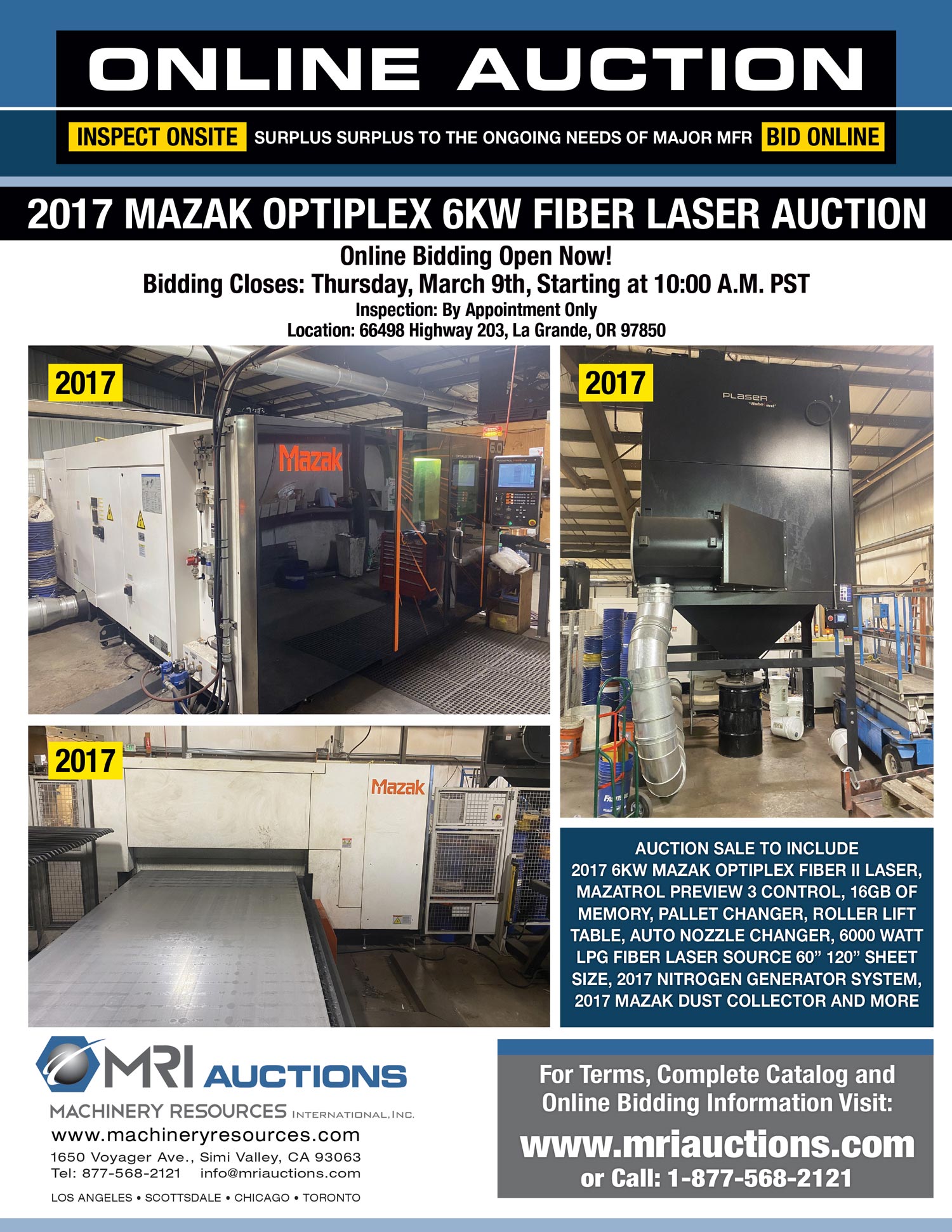 Location:
66498 Highway 203
La Grande, OR 97850
---
Opens:
January 27, 2023
8AM
Closes:
March 9, 2023
10AM
Inspection:
By appointment only.
---
Auction Brochure Proxy Bid Form
---
PAYMENT INFORMATION:
ACH OR BANK WIRE TRANSFER ONLY. FULL PAYMENT MUST BE MADE NO LATER THAN 24 HOURS OF WINNING BID.
PREPPING, LOADING & TRUCKING IS THE RESPONSIBILITY OF THE BUYER. ALL ITEMS ARE SOLD "AS IS, WHERE IS" WITHOUT ANY WARRANTY, EXPRESSED OR IMPLIED. NO EXCEPTIONS.
ONLINE REGISTRATION INFORMATION:
ONLINE BIDDERS MUST MAINTAIN A 25% DEPOSIT AT ALL TIMES DURING THE AUCTION SALE. BIDDING RESTRICTIONS APPLY. CHECK WEBSITE FOR FURTHER DETAILS.
NO ITEMS MAY BE REMOVED DURING THE AUCTION. NO EXCEPTIONS.
BUYER'S PREMIUM:
18% FOR ALL ONLINE PURCHASES.
---
BUY IT SEPARATELY:
2017  6KW MAZAK OPTIPLEX FIBER II LASER, MAZATROL PREVIEW 3 CONTROL, 16GB OF MEMORY, PALLET CHANGER, ROLLER LIFT TABLE, AUTO NOZZLE CHANGER, 6000 WATT IPG FIBER LASER SOURCE 60" 120" SHEET SIZE
2017 NITROGEN GENERATOR SYSTEM
2017 MAZAK DUST COLLECTOR
OR BUY IT TOGETHER:
2017 MAZAK OPTIPLEX 3015 FIBER II  6KW LASER
TRAVELS:
-X AXIS: 122.5″
-Y AXIS: 62.20″
-Z AXIS: 4.33″
MAZAK OPTIPLEX 3015 FIBER II
MACHINE STRUCTURE: FLYING OPTICS
MAXIMUM WORKPIECE DIMENSIONS: 60.030″ X 120.078″
MAXIMUM WORKPIECE WEIGHT: 2,050 LBS
WORK TABLE HEIGHT: 35.43″
MAXIMUM MATERIAL THICKNESS
MILD STEEL: 1.00″
STAINLESS STEEL: 1.00″
ALUMINUM: 0.750″
MOTION DRIVE SYSTEM DESIGN
X, Y AXIS: RACK AND PINION DRIVE
Z AXIS: BALL SCREW DRIVE
NUMBER OF CONTROL AXES: 3
X,Y AXIS: 0.0002″/19.68″
Z AXIS: 0.0004″/3.94″
REPEATABLE ACCURACY
X, Y AXIS: 0.0012″
MAXIMUM PROCESSING FEEDRATE
X, Y AXIS: 2,362 IPM
MAZATROL PREVIEW 3
CPU: 64 BIT
DISPLAY SCREEN: 15″ COLOR LCD
MEMORY CAPACITY: 16 GB (PROGRAM MEMORY CAPACITY: 1 GB)
POSITION DETECTION SYSTEM: ENCODER
MINIMUM COMMAND UNIT: 0.0001″
HYYAGE LASER HEAD
PROGRAM INPUT SYSTEM: EIA/ISO
ROLLER LIFT TABLE IN PALLET CHANGER
AUTO NOZZLE CHANGER
6000 WATT IPG FIBER LASER SOURCE
DUST COLLECTOR
THE NITROGEN GENERATOR