Public Online Auction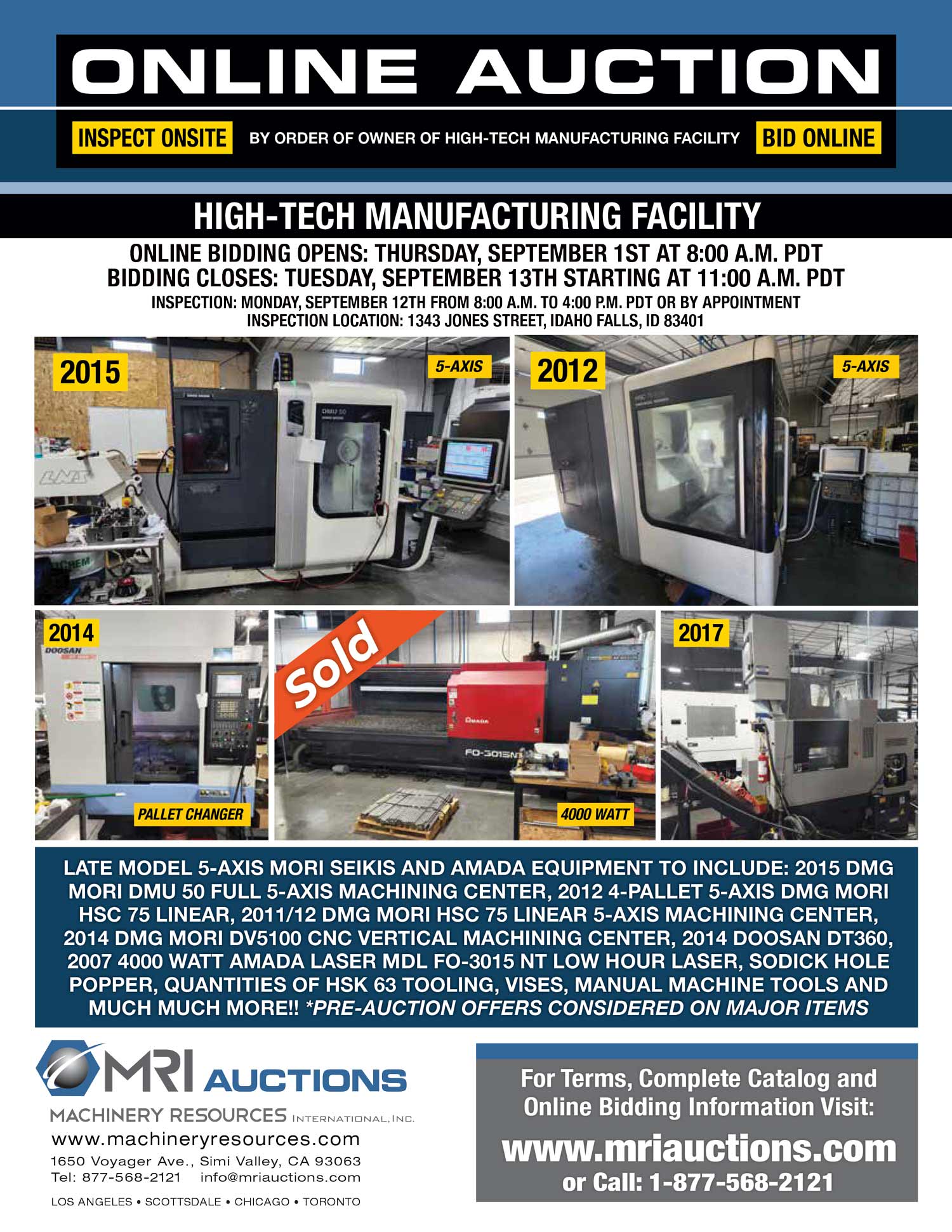 Location:
1343 JONES STREET
IDAHO FALLS , ID 83401
---
Opens:
September 1, 2022
8:00 AM PST
Closes:
September 13, 2022
11:00 AM PST
Inspection:
September 12, 2022
8:00 AM - 4:00 PM PST or by appointment
---
Auction Brochure Proxy Bid Form
---
PAYMENT BY WIRE TRANSFER  OR ACH. FULL PAYMENT MUST BE MADE NO LATER THAN 24 HOURS OF WINNING BID 
BUYER'S PREMIUM:  18% FOR ALL ONLINE PURCHASES
---
ONLINE AUCTION BY ORDER OF OWNER OF HIGH TECH MANUFACTURING FACILITY  TO INCLUDE:
LATE MODEL 5-AXIS MORI SEIKIS AND AMADA EQUIPMENT TO INCLUDE  2015 DMG MORI DMU 50 FULL 5-AXIS MACHINING CENTER, 2012 4-PALLET 5-AXIS DMG MORI HSC 75 LINEAR,  2011/12 DMG MORI HSC 75 LINEAR 5-AXIS MACHINING CENTER, 2014 DMG MORI DV5100 CNC VERTICAL MACHINING CENTER,  2014  DOOSAN DT360, 2007 4000 WATT AMADA LASER MDL FO-3015 NT LOW HOUR LASER,  SODICK HOLE POPPER,  QUANTITIES OF HSK 63 TOOLING,  VISES,  MANUAL MACHINE TOOLS AND MUCH MUCH MORE!!
*PRE-AUCTION OFFERS CONSIDERED ON MAJOR ITEMS
5-AXIS MACHINING CENTERS:
2015 DMG MORI SEIKI DMU 50,  SIEMANS CONTROL,  19.6 X 17.7 X 15.74,  B-AXIS -5 TO 110 DEGREES, 14000 RPM BIG PLUS SPINDLE,  32 TOOL ATC, FULL 5-AXIS CONTOURING,  1000 PSI COOLANT THROUGH,  PROBING
2012 DMG MORI SEIKI HSC 75 LINEAR,  34.8 X 23.6 X 23.6,  -10 TO PLS 110 DEGREES,  28000 RPM, HSK 63 TAPER,  4 PALLET CHANGER, 60 TOOL ATC, PP60 RENISHAW PROBE, TOOL MEASUREMENT PROBE, CHIP CONVEYOR, HEIDENHEIN 530 5-AXIS CONTROL
2012 DMG MORI SEIKI HSC 75 LINEAR,  34.8 X 23.6 X 23.6,  -10 TO PLS 110 DEGREES,  28000 RPM, HSK 63 TAPER, 60 TOOL ATC, PP60 RENISHAW PROBE, TOOL MEASUREMENT PROBE, CHIP CONVEYOR, 3D HEIDENHEIN 530 5-AXIS CONTROL
3-AXIS MACHINING CENTERS:
2014 MORI SEIKI DV5100,  40 X 20 X 20,  MORI SEIKI MAPPS CONTROL,  14000 RPM, 40 TAPER,  CHIP CONVEYOR, COOLANT THROUGH SPINDLE
2014  DOOSAN DT360, TWO PALLET VMC,  20.5" X 14.2" X 13.8" ,  PALLETS 25.6" X 14.8",  FANUC CONTROL, 12000 RPM BIG PLUS SPINDLE,  14 TOOL ATC, 300 PSI COOLANT THROUGH, CHIP CONVEYOR
CNC SWISS TYPE LATHE:
2017 TSUGAMI B0325 BII,  32MM,  FANUC CONTROL, FMB TURBO 3-38 BARFEEDER, TRI MIST, CHIP CONVEYOR, PARTS CATCHER, FIRE TRACE
AMADA CNC LASER:
2007  FO3015NT 4000KW LASER,  135 X 61 X 7.8,  FANUC 160LI CONTROL, DUAL PALLET SHUTTLE TABLES, DUST COLLECTOR, ORION CHILLER, WELL SERVICED AND LOW HOURS
MISC:
2008 SODICK HOLE POPPER
QUANTITIES OF HSK 63 TOOLING
CABINETS AND VISES