Public Webcast Auction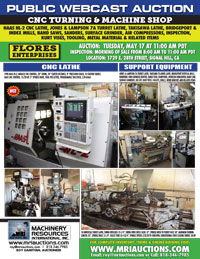 Location:
Flores Enterprises
1729 E. 28th Street
Signal Hill, CA 90755
---
Opens:
May 17, 2016
11:00 AM PDT
Closes:
May 17, 2016

Inspection:
May 17, 2016
8:00 to 11:00 AM PDT
---
Auction Brochure Auction Lot Catalog Proxy Bid Form
---
TERMS OF PAYMENT:
CASH, CASHIER'S CHECK, BUSINESS CHECK WITH BANK LETTER OF GUARANTEE, BANK WIRE TRANSFER. FULL PAYMENT MUST BE MADE NO LATER THAN 24 HOURS OF WINNING BID. PREPPING MACHINES, LOADING & TRUCKING IS THE RESPONSIBILITY OF THE BUYER. ALL ITEMS MUST BE REMOVED NO LATER THAN THURSDAY, MAY 19. NO EXCEPTIONS.
BUYER'S PREMIUM:
15% FOR ALL ONSITE PURCHASES AND 18% FOR ALL ONLINE PURCHASES.
ONLINE REGISTRATION INFORMATION:
ONLINE BIDDERS MUST MAINTAIN A 25% DEPOSIT AT ALL TIMES DURING THE AUCTION SALE. BIDDING RESTRICTIONS APPLY. CHECK WEBSITE FOR FURTHER DETAILS. ONLINE BIDDING PROVIDED BY BIDSPOTTER.
---
FEATURING:
CNC LATHE:
1998 HAAS HL-2, MIRACLE CNC CONTROL, 20″ SWING, 24″ CENTER DISTANCE, 8″ PRECISION CHUCK, 10 STATION TURRET, HAAS CNC CONTROL, 15/20 HP, 3" SPINDLE BORE, TOOL PRE-SETTER, PROGRAMABLE TAILSTOCK, S/N 61665
SUPPORT EQUIPMENT:
JONES & LAMPSON 7A TURRET LATHE
TAKISAWA TSL-800D LATHE
BRIDGEPORT VERTICAL MILLS
BURRKING 1000 GRINDER/BUFFER
DAREX TOOL SHARPENER
JOHNSON HORIZONTAL BAND SAW
SURFACE GRINDERS
DIE LIFT
KURT VISES
COLLETS
DRILLS
WORK BENCHES
AND RELATED ITEMS
INSPECTION DEPARTMENT:
MITUTOYO DIGITAL CALIPERS
MITUTOYO HEIGHT MASTER
THREAD GAGES
GO/NO GO GAGES
V BLOCKS
1-2-3 BLOCKS
INDICATORS
GAGE BLOCKS
GAGE PINS
MITUTOYO HEIGHT MASTER
BORE GAGES
PRECISION VISES
INDICATOR STANDS
BLADE MICROMETERS
DIGITAL CALIPERS
GROOVE GAGES
I.D. MICROMETERS
FLANGE MICROMETERS
FORKLIFT:
NISSAN 5,000 LB, LPG, 3 STAGE MAST, LOAD LIGHTS