Public Online Auction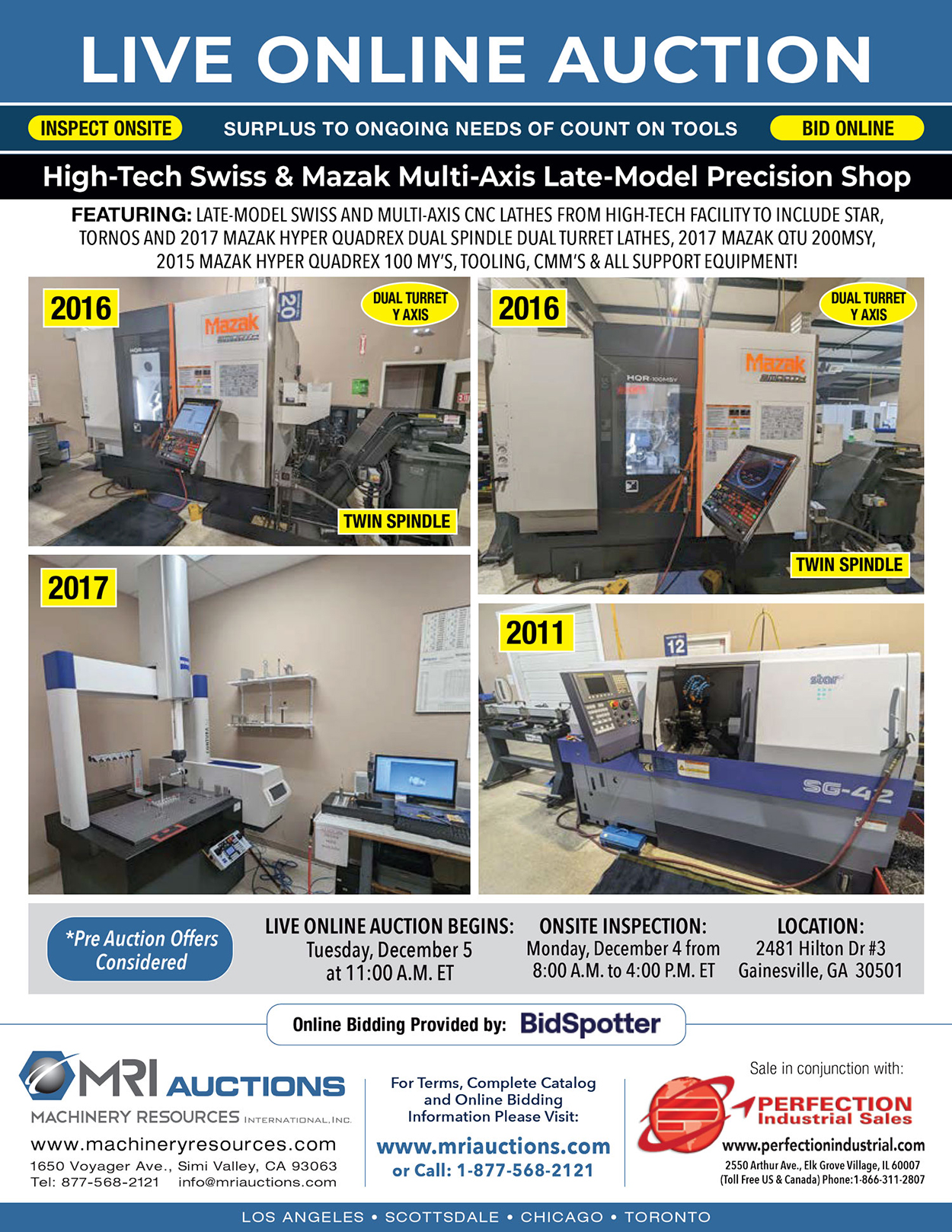 Location:
2481 Hilton Dr #3
Gainesville, GA 30501
---
Opens:
December 5, 2023
11AM ET
Closes:
December 5, 2023
11AM ET
Inspection:
December 4, 2023

---
Register for Auction Auction Brochure Proxy Bid Form
---
Payments Accepted:
ACH or Bank Wire Transfer.
Full payment must be made no later than 24 hours of Winning Bid.
Prepping, loading & trucking is the responsibility of the buyer.
All items are sold "as is, where is" without any warranty, expressed or implied. NO EXCEPTIONS.
BUYER'S PREMIUM:
18% For All Onsite Purchases
ONLINE REGISTRATION INFORMATION:
Online bidders must maintain a 25% deposit at all times during the auction sale. Bidding restrictions apply. Check website for further details.
---
LATE MODEL SWISS AND MULTI AXIS CNC LATHES FROM HIGH TECH FACILITY TO INCLUDE STAR, TORNOS,  AND 2017 MAZAK HYPER QUADREX DUAL SPINDLE DUAL TURRET LATHES ,  2017 MAZAK QTN 200MSY,  2015 MAZAK HYPER QUADREX 100 MY'S, TOOLING, CMM'S & ALL SUPPORT EQUIPMENT!
CNC LATHES
2014 MAZAK HYPER QUADREX 150MSY MULTI-TASKING CNC TURNING CENTER, MODEL HQR 150MSY, S/N 260886, MAZATROL MATRIX 2 CONTROL, ONLY CUT ~5,800 HOURS, LIVE TOOLING, DUAL 12 POSITION TURRETS, DUAL SPINDLE, DUAL TOOL SETTERS, ROBOT PART UNLOADER, X2 6" KITIGAWA CHUCKS, 6K MAX RPM SUB SPINDLE, 5K MAX RPM MAIN SPINDLE, MAZAK SUPERFLOW D-8-1000 HIGH PRESSURE COOLANT SYSTEM S/N 0020, THROUGH SPINDLE COOLANT, MISTBUSTER, MAYFRAN MT10 CHIP CONVEYOR, J.F BURNS CO. TOP LOAD SPORT 2 ½' BAR FEED/SUPPORT, MODEL TLS3-2.5-R2.5-1194, S/N TLS3-615
2016 MAZAK HYPER QUADREX 150MSY MULTI-TASKING CNC TURNING CENTER, MODEL HQR-150MSY, S/N 273087, MAZATROL SMOOTH G 3D TOUCH SCREEN CONTROL, ONLY ~5600 CUT HOURS, LIVE TOOLING, DUAL 12 POSITION TURRETS, DUAL SPINDLE, (1) KITIGAWA 6" CHUCK, (1) ROYAL 42362 ACCU-LENGTH CNC COLLET CHUCK S20 A2-6, 5K MAX RPM MAIN SPINDLE, 6K MAX RPM SUB SPINDLE, MAZAK SUPERFLOW D-8-1000 HIGH PRESSURE COOLANT SYSTEM S/N 0022, THROUGH SPINDLE COOLANT, MISTBUSTER, MAYFRAN CHIP CONVEYOR, J.F BURNS CO. TOP LOAD SPORT 2 ½' BAR FEED/SUPPORT, MODEL TLS3-2.5-R2.5-1194, S/N TLS3-616
2016 MAZAK HYPER QUADREX 100MSY MULTI-TASKING CNC CENTER, MODEL HQR-100MSY, S/N 278053, MAZATROL SMOOTH G 3D TOUCH SCREEN CONTROL, ONLY ~6098 CUT HOURS, LIVE TOOLING, DUAL 12 POSITION TURRETS, DUAL SPINDLE, DUAL TOOL SETTERS, ROBOT PART UNLOADER, X2 KITIGAWA 6" CHUCKS, 6K MAX RPM SUB SPINDLE, 5650 MAX RPM MAIN SPINDLE, MAZAK SUPERFLOW D-8-1000 HIGH PRESSURE COOLANT SYSTEM S/N 0023, MISTBUSTER, THROUGH SPINDLE COOLANT, MAYFRAN MT10 CHIP CONVEYOR, J.F BURNS CO. TOP LOAD SPORT 2 ½' BAR FEED/SUPPORT, MODEL TLS3-2.5-R2.5-1194, S/N TLS3-617, TOTAL WEIGHT 19580 LBS
2017 MAZAK QUICK TURN UNIVERSAL 250MSY, MODEL QTU 250MSY, S/N 279816, MAZATROL SMOOTH C CONTROL, ONLY ~6300 CUT HOURS AS OF 10/10/23, LIVE TOOLING, 12 POSITION TURRET, MAIN SPINDLE 8" KITIGAWA CHUCK, SUB SPINDLE 6" KITIGAWA CHUCK WITH THROUGH COOLANT, MAZAK SUPERFLOX S8/1000 HIGH PRESSURE COOLANT, TOOL SETTER, JORGENSON CHIP CONVEYOR, J.F BURNS CO. TOP LOAD SPORT 2 ½' BAR FEED/SUPPORT, MODEL TLS3-2.5-R2.5-1021, S/N TLS3-618
2016 YAMA SEIKI GTS-200XY S/N 91A147, ONLY ~4,400 CUT HOURS, FANUC SERIES 31I-MODEL B CONTROL, DUAL 12 POSITION TURRET, DUAL SPINDLE, 4800 MAX RPM, (2) KITIGAWA 8" CHUCKS, DUAL RENISHAW TOOL SETTER ARMS, PART CATCHER, ALLCOOL R58 HIGH PRESSURE COOLANT, KEYARROW CHIP CONVEYOR, 2" BAR CAPACITY, MAX SWING 11", MAX TURNING DIAMETER 11", J.F BURNS CO. TOP LOAD SPORT 3' BAR FEED/SUPPORT, MODEL TLS3-03-R3-0982, S/N TLS3-610
2011 HAAS TL-2 CNC TOOL ROOM MILL, HAAS CNC CONTROL, AUTOMATIC TOOL CHANGER, TAILSTOCK, 3/1 PHASE POWER COMPATIBILITY, COLLET CHUCK
LARGE QUANTITY OF FACE, CROSS, AND SPEED MILLING LIVE TOOLS FOR MAZAK
LIVE TOOLING FOR YAMA SEIKI
SPINDLE LINERS
CNC MILLS
2013 DMG MORI SEIKI NHX 4000 HORIZONTAL MACHINING CENTER, S/N 122000000473, SIEMENS DMG SLIMLINE CONTROL, 12,000 RPM HIGH SPEED SPINDLE, DUAL PALLETS, 15 ¾" PALLET SIZE, 40 CAPACITY ATC, HSK, DMG CHIP CONVEYOR, HIGH PRESSURE COOLANT? THROUGH SPINDLE COOLANT
2013 DMG MORI SEIKI NHX 4000 HORIZONTAL MACHINING CENTER, S/N 122000000453, SIEMENS DMG SLIMLINE CONTROL, 12,000 RPM HIGH SPEED SPINDLE, DUAL PALLETS, 15 ¾" PALLET SIZE, 40 CAPACITY ATC, HSK, DMG CHIP CONVEYOR, HIGH PRESSURE COOLANT? THROUGH SPINDLE COOLANT
LARGE QUANTITY OF HSK TOOL HOLDERS
CNC SWISS AUTOMATIC LATHES
2011 STAR SG-42 FIXED HEADSTOCK AUTOMATIC SWISS LATHE, 42MM, S/N 0064 (003), FANUC 31I CONTROL, ONLY ~1930 CUT HOURS, LIVE TOOLING, 8 POSITION TURRET, DUAL SPINDLE, 5C COLLET CHUCKS, PART CATCHER AND PART CONVEYOR, J.F BURNS CO. TOP LOAD SPORT 7' BAR FEED/SUPPORT, MODEL TLS3-R7-1100, S/N TLS-551
2003 CITIZEN FL-42 FIXED HEADSTOCK MULTI AXIS AUTOMATIC SWISS LATHE, 42MM, 7 AXIS, S/N W19222, CUT HOURS 103,983, CINCOM CITIZEN CONTROL, LIVE MILLING, 12 POSITION TURRET, SUB SPINDLE, 3J COLLET CHUCK MAIN SPINDLE, PART CATCHER, IEMCA BOSS 551-37 14' BARFEEDER, S/N 6100301
STAR SV-32 MULTI AXIS AUTOMATIC SWISS LATHE, S/N 0190 (022), ONLY ~3,150 HRS, FANUC CONTROL, 18 POSITION TURRET, SUB SPINDLE, LIVE TOOLING, PART CATCHER WITH CONVEYOR, MISTBUSTER, BARFEEDER 14'
2007 STAR ECAS-32T MULTI AXIS AUTOMATIC SWISS LATHE, S/N 0177 (032), 11 AXIS, ONLY ~18,400 CUT HOURS, DUAL 10 POSITION TURRETS, SUB SPINDLE, SIEMENS CONTROL, USB, MISTBUSTER, BARFEEDER 14'
2005 STAR ECAS-32T MULTI AXIS AUTOMATIC SWISS LATHE, S/N 0113 (016), 11 AXIS, ONLY ~13,450 CUT HOURS, DUAL 10 POSITION TURRETS, SUB SPINDLE, SIEMENS CONTROL, MISTBUSTER, BARFEEDER 14'
ASSORTED LIVE TOOLING AND TOOL HOLDERS FOR SWISS LATHES
INSPECTION AND CMMS
2012 ZEISS CONTURA G2 COORDINATE MEASURING MACHINE S/N 201207503381, WITH ZEISS CALYPSO SOFTWARE, ZEISS RDS ARTICULATING PROBE HOLDER, VAST XXT HIGH ACCURACY CMM SCANNING PROBE, MSR MINI MULTI SENSOR RACK WITH ASSORTED PROBES, FIXTURE AND SET UP PLATE, TRAVELS: X AXIS 36" , Y AXIS 41", Z AXIS 31"
2006 ZEISS CONTURA G2 COORDINATE MEASURING MACHINE S/N 200607500336, WITH ZEISS CALYPSO SOFTWARE, ZEISS RDS ARTICULATING PROBE HOLDER, VAST XXT HIGH ACCURACY CMM SCANNING PROBE, MSR MINI MULTI SENSOR RACK WITH ASSORTED PROBES, FIXTURE AND SET UP PLATE, TRAVELS: X AXIS 36" , Y AXIS 41", Z AXIS 31″
EDM, GRINDERS, AND MISCELLANEOUS SUPPORT EQUIPMENT
2004 CHARMILLES ROBOFORM 44 ELECTRICAL DISCHARGE MACHINE WITH CONTROL TOWER AND ACCESSORIES
2001 FALCON CHEVALIER SMART H818 CNC SURFACE GRINDER
ROLLING CHIP HOPPERS
STAINLESS STEEL 1 ½" BAR STOCK, 1 3/8" BAR STOCK, ASSORTED BAR STOCK