Public Webcast Auction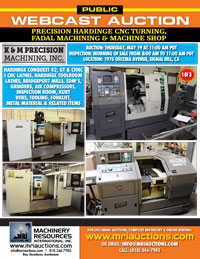 Location:
K&M Precision Machining, Inc.
1976 Orizaba Avenue
Signal Hill, CA 90755
---
Opens:
May 19, 2016
11:00 AM PDT
Closes:
May 19, 2016

Inspection:
May 19, 2016
8:00 to 11:00 AM PDT
---
Auction Brochure Auction Lot Catalog Proxy Bid Form
---
TERMS OF PAYMENT:
CASH, CASHIER'S CHECK, BUSINESS CHECK WITH BANK LETTER OF GUARANTEE, BANK WIRE TRANSFER. FULL PAYMENT MUST BE MADE NO LATER THAN 24 HOURS OF WINNING BID. PREPPING MACHINES, LOADING & TRUCKING IS THE RESPONSIBILITY OF THE BUYER. ALL ITEMS MUST BE REMOVED NO LATER THAN WEDNESDAY MAY 25. NO EXCEPTIONS.
BUYER'S PREMIUM:
12% FOR ALL ONSITE PURCHASES AND 15% FOR ALL ONLINE PURCHASES.
ONLINE REGISTRATION INFORMATION:
ONLINE BIDDERS MUST MAINTAIN A 25% DEPOSIT AT ALL TIMES DURING THE AUCTION SALE. BIDDING RESTRICTIONS APPLY. CHECK WEBSITE FOR FURTHER DETAILS. ONLINE BIDDING PROVIDED BY BIDSPOTTER.
---
FEATURING:
CNC MACHINING CENTERS:
FADAL VMC 4020, FADAL 88HS HIGH SPEED CNC CONTROL, TRAVELS: 40″ X 20″ X 20″, 10000 RPM SPINDLE, CAT 40 TAPER, 20ATC, S/N9408721
FADAL VMC 40, FADAL CNC CONTROL TRAVELS: 22″ X 16″ X 20″, 10000 RPM SPINDLE, CAT 40 TAPER, S/N'S 8503165, 8410094
FADAL VMC 15XT, FADAL 88HS HIGH SPEED CNC CONTROL, TRAVELS: 20″ X 16″ X 24″, 10000 RPM SPINDLE, CAT 40 TAPER, 21 ATC, S/N 9507428
CNC LATHES & BAR FEEDS:
(3) HARDINGE CONQUEST 42, FANUC OT CNC CONTROL, SWING: 19.5″, 2 AXIS, TURNING DIAMETER: 9.1″, BAR CAPACITY: 1.625″, SPINDLE SPEED: 5000 RPM, CHIP CONVEYOR
CNC GANG TYPE LATHE:
HARDINGE CONQUEST GT, FANUC 0T CNC CONTROL, 1-1/16″ BAR CAPACITY, 5C COLLET CHUCK, 5HP SPINDLE MOTOR, 6000 RPM, XY TRAVELS 11.9″-11.06″, 11.76″ SWING OVER WAY COVER, COOLANT SYSTEM
CNC CHUCKERS:
(2) HARDINGE CHNC I, GE NUMERIC & SIEMENS SINUMERIK CNC CONTROLS
CNC SWISS TYPE LATHE:
CITIZEN CINCOM 16, MELDAS CNC CONTROL, MAX. MACHINING DIAMETER .687″MAX, MACHINING LENGTH PER ONE CHUCK: 8.1″, MAX. DRILLING DIAMETER: UP TO .394″, SPINDLE SPEED: 200 – 10,000 RPM, BACK WORK MAX. CHUCKING DIA. OF PICK OFF SPINDLE .687″, BACK WORK PICK OFF SPINDLE SPEED: 200 – 5000 RPM, BACK WORK PICK OFF SPINDLE MOTOR: 2 HP
BACK WORK MIN. SPINDLE INDEX: 1 DEG, NUMBER OF OD TURN TOOL STATIONS: 7, NUMBER OF FRONT ID TOOL STATIONS: 3, NUMBER OF BACK ID TOOL STATIONS: 3, NUMBER OF LIVE TOOLS: 3, ROTARY SPINDLE SPEED: 200 – 5000 RPM, 5 HP
EDM MACHINES:
PRATT & WHITNEY TAPE CUT W2 WIRE TYPE, FANUC CNC CONTROL
ELOX SINKER TYPE, FANUC CNC CONTROL
WATCH MAKER'S LATHES:
SUPPORT EQUIPMENT:
BRIDGEPORT SERIES I VERTICAL MILL
HARDINGE TFB-H PRECSION LATHE
HARDINGE DV59/DSM59 SECOND OPERATION LATHE
CHUCKER
ACCU-FINISH GRINDER
AGATTHON GRINDER
BROWN & SHARPE SURFACE GRINDER
DEDTRU GRINDER
CUTTER MASTER TOOL GRINDER
W.F. WELLS HORIZONTAL BAND SAW
KURT VISES
40 TAPER TOOL HOLDERS
COLLETS
DRILLS
WORK BENCHES AND RELATED ITEMS
INSPECTION DEPARTMENT:
ZEISS NUMERIC CMM
DELTRONIC DN 214 OPTICAL COMPARATOR
MICRO VIEW OPTICAL COMPARATOR
ROCKWELL HARDNESS TESTER
MITUTOYO DIGITAL CALIPERS
MITUTOYO HEIGHT MASTER
THREAD GAGES
GO/NO GO GAGES
V BLOCKS
1-2-3 BLOCKS
INDICATORS
GAGE BLOCKS
GAGE PINS
MITUTOYO HEIGHT MASTER
BORE GAGES
PRECISION VISES
INDICATOR STANDS
BLADE MICROMETERS
DIGITAL CALIPERS
GROOVE GAGES
I.D. MICROMETERS
FLANGE MICROMETERS